Sri Lankan higher education system needs specific reforms: UGC Chief
Fri, 08/11/2019 - 14:28
Sri Lankan higher education system needs specific reforms: UGC Chief
Following is the keynote speech delivered by University Grants Commission Chairman Prof. Mohan de Silva at the International Higher Education Conference jointly organised by CMA Sri Lanka, CPM Sri Lanka and Association of Management Development Institutions in South Asia (AMDISA) in Colombo recently.
The title I am entrusted to speak is 'A professional vision to create a knowledge Economy'.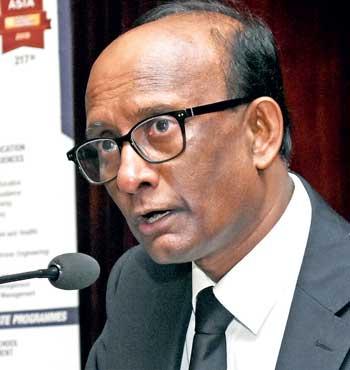 Prof. Mohan de Silva

Quality Higher Education is the magnet for nation building. Universities and Higher Education Institutes have a vital role to play to produce valued human resources for this purpose.
Since 1947, Sri Lankans have been blessed with a policy of free education including higher education and later free healthcare.

These visionary reforms have brought many firsts in South Asia to Sri Lanka. Excellent male and female literacy rates, life expectancy rates and health care indices to name few.
In the context of higher education, whilst many countries in the region have evolved in line with global trends, Sri Lanka lagged behind with necessary reforms in the higher education sector; the sector that is responsible for creating human resources to accelerate the country's knowledge economy.

In this presentation therefore, I wish to touch upon briefly, some reasons why we lagged behind when compared with our neighbours and also what higher educational policy formulators have already proposed to the policy makers in this county for the progress of higher education.
"As the higher education evolved globally, and transparency, accountability and good governance became norms"

Fri, 08 Nov 2019